Black Water Sister by Zen Cho | Blog tour review
As Jessamyn packs for Malaysia, it's not a good time to start hearing a bossy voice in her head. Broke, jobless and just graduated, she's abandoning America to return 'home'. But she last saw Malaysia as a toddler – and is completely unprepared for its ghosts, gods and her eccentric family's shenanigans.
Jess soon learns her 'voice' belongs to Ah Ma, her late grandmother. She worshipped the Black Water Sister, a local deity. And when a business magnate dared to offend her goddess, Ah Ma swore revenge. Now she's decided Jess will help, whether she wants to or not.
As Ah Ma blackmails Jess into compliance, Jess fights to retain control. But her irrepressible relative isn't going to let a little thing like death stop her, when she can simply borrow Jess's body to make mischief. As Jess is drawn ever deeper into a world of peril and family secrets, getting a job becomes the least of her worries.
GOODREADS | STORYGRAPH | BOOKSHOP.ORG | HIVE
REQUEST BLACK WATER SISTER FOR PURCHASE VIA AN INDIE LGBTQ+ BOOKSTORE:
GAY IS THE WORD | THE PORTAL BOOKSHOP | CATEGORY IS BOOKS | QUEER LIT
---
Where to start . . . I really loved this Black Water Sister. It was my first read for Pride month, and I anticipated that I would love it, but even so, it surpassed my expectations. I've not read anything by Zen Cho (despite having owned Sorcerer to the Crown for ten thousand years), and so Black Water Sister was my first introduction to Zen Cho's writing.
One of the first thing that captivated me about Black Water Sister was the atmosphere. Cho masterfully evokes Malaysia, from the soup-like heat during the day to the gossiping aunties speaking in Manglish and the range of local deities. Jess, the heroine, grew up in the US and so is just as new to Malaysia as most of the readers will be, which makes her a perfect vehicle for exploring the locale for the first time. Cho writes Malaysia in a way that makes it feel homely and familiar, and the culture and traditions are naturally introduced as part of day-to-day life.
Jess, as previously mentioned, is the heroine. She's a little bit flawed, but I loved her. She's a new university graduate (from Havard) who is currently jobless. She's also a closeted lesbian and hides her girlfriend from her family. As a university graduate (who is no longer jobless, thankfully, but used to be!), I related to Jess' internal dilemma of what path to take, and what career to follow. There's also the fact that she's a lesbian, and she's always hidden this fact from her Malaysian family.
Black Water Sister is not a sad gay story, but it does shed light on something not often seen in LGBTQ+ literature: characters closeted because of family, culture or tradition. Jess being closeted wasn't the forefront of the story, but it is the most significant subplot – the book begins and ends on the topic of her sexuality. I thought it was handled well, especially as Jess' extended family was shown to be very loving – yet still expressed homophobic views around Jess, all the while being unaware she was a lesbian.
On a different topic, let me talk about Sherng, my favourite side character. In any other book, he would've been the love interest – rich son of the gang boss/CEO who is the antagonist/deuteragonist for Black Water Sister, but is actually a good person and means well. In Black Water Sister, there's just a paragraph to put the notion of placing him as a love interest out of readers' minds. Instead, he and Jess have a complex relationship where they shift around in the grey area of allies. I'd like to have seen more of him, and a resolution that allowed him and Jess to be friends, but I'll take what I got.
Jess' most constant companion throughout Black Water Sister is Ah Ma, her grandmother. Ah Ma is stubborn-willed and tough, but also cares deep down in her own way. The dynamic between her and Jess was something I loved reading and seeing change and evolve over the course of the book. Ah Ma is also the reason Jess becomes tied to the Black Water Sister, a local god (and a grey antagonist) who Jess' grandmother used to be the medium for. When it came to Ah Ma and the Black Water Sister, I really enjoyed the turns in the narrative regarding both.
There are some very funny moments in this book between Jess and Ah Ma, but it is not a comedy – nor a black comedy. There are some very dark parts in this book. If you glance at the content warnings listed below, there's a lot of physical abuse (gang fights) and one incident of near-rape. I don't like rape scenes in any book, but in Black Water Sister, I understand the reason for its inclusion. It's used as a device to bring Jess and the Black Water Sister together, both women united under the threat of abuse at the hands of men, blurring present (Jess) with the past (Black Water Sister). Still not exactly fond of it, but nevertheless.
For those wanting a summer read that will sweep you away to somewhere distant and new (maybe whilst you're stuck at home), I would certainly recommend Black Water Sister. It's a really great standalone, and a wonderfully fresh story to boot. Having a closeted lesbian Malaysian heroine was something I especially enjoyed, as it's a relatively new perspective not often seen in the SFF genre.
Thank you to Pan Macmillan and ED PR for having me on the Bookstagram + Blog Tour!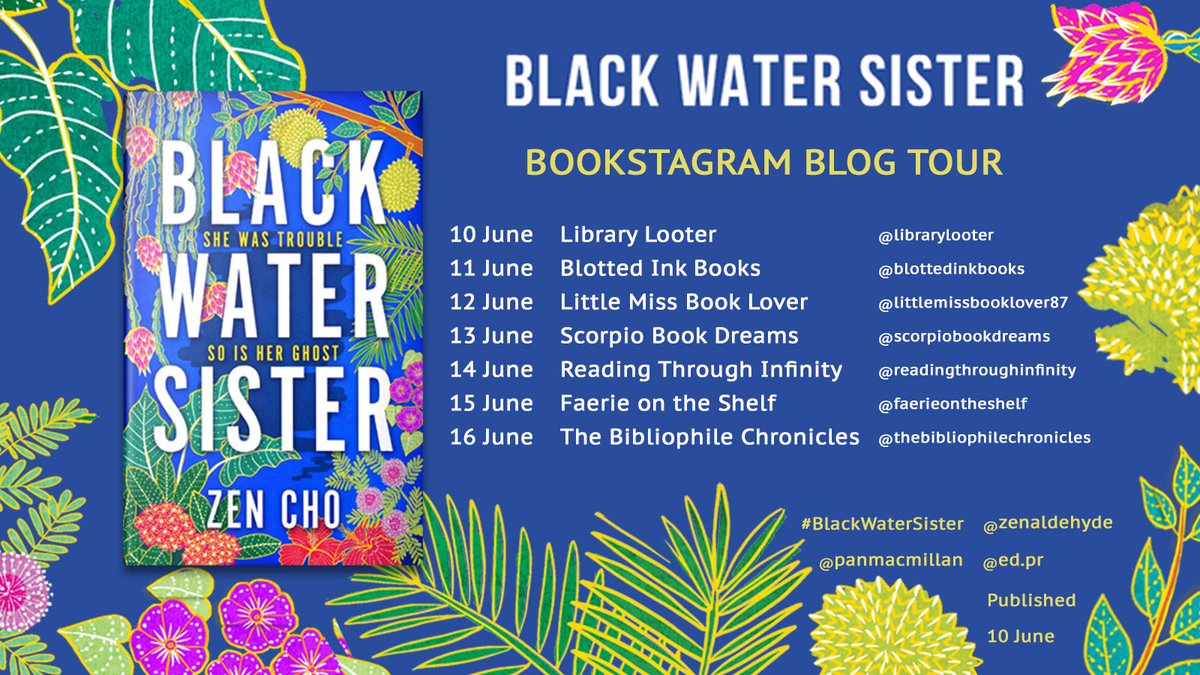 Representation and content warnings
Rep: Lesbian Malaysian heroine; sapphic Indian love interest; Malaysian cast; Malaysian-Indian side character
Content warnings: Death; physical abuse; sexual abuse (one incident of near-rape); casual homophobia. This list is not conclusive. Please use caution if you think you may be affected by any of these things.
TL;DR: In Black Water Sister, Zen Cho writes a beautifully evocative story that blends rich Malaysian folklore with the contemporary struggle of being closeted in a place where homosexual individuals still face discrimination.
Readers may also enjoy
She Who Became the Sun by Shelley Parker-Chan
The Chosen and the Beautiful by Nghi Vo
The Order of the Pure Moon Reflected in Water by Zen Cho
---
TWITTER | INSTAGRAM | GOODREADS
Please note: affiliate links may be used in this post and will be marked with an asterisk. This means that if you purchase a book using this link, we receive a small commission in exchange.
Like this post? Pin it!